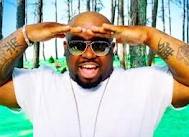 Thomas DeCarlo Callaway (born May 30, 1974),better known by his stage name Cee-Lo Green, is an American hip hop, funk, soul, and R&B musician. He Voices Rev. Rollo Goodlove Thomas DeCarlo Callaway (born May 30, 1974), better known by his stage name Cee Lo Green, is an American singer-songwriter, rapper, record producer and actor. He originally came to prominence as a member of the southern hip hop group Goodie Mob, later launching a critically acclaimed solo career and forming Gnarls Barkley with DJ Danger Mouse. Internationally, Cee Lo is best known for his hip hop work and Gnarls Barkley's 2006 worldwide hit "Crazy", which reached number one in various singles charts worldwide, including the UK. In the United States, "Crazy" reached number two on the Billboard Hot 100. Parent album St. Elsewhere was also a hit, reaching number one on the UK Albums Chart and number four on the US Billboard 200 album charts. Gnarls Barkley's second album, The Odd Couple (2008), was less successful and missed the top ten in both the UK and U.S., where it charted at number 12 in the U.S. and 18 in the UK. In 2010, Cee Lo took a break from recording with Gnarls Barkley and released the single "Fuck You!" on August 19 as a solo recording artist. The song was an instant hit, reaching the top spot in the UK and the Netherlands and charted at number two on the U.S. Billboard Hot 100. The parent album, The Lady Killer (2010) saw similar success, peaking within the top five of the UK Albums Chart and debuting within the top ten on the Billboard 200 album charts, and received a Gold certification from the BPI in the UK shortly after its release. His second single "It's OK" was a hit in Europe and the third single, "Bright Lights Bigger City" has also seen similar charting success. Cee Lo is also currently a vocal coach on the NBC reality talent show The Voice with Adam Levine, Christina Aguilera, and Blake Shelton.
Ad blocker interference detected!
Wikia is a free-to-use site that makes money from advertising. We have a modified experience for viewers using ad blockers

Wikia is not accessible if you've made further modifications. Remove the custom ad blocker rule(s) and the page will load as expected.