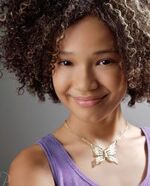 Gabby Soliel (born on May 25,1995) is an American actress. She played Adriana on The Hughleys in (2001–2002) season, and Destiny Johnson in the 2004 comedy feature film 'Johnson Family Vacation. She provided the voice of Jazmine Dubois, a supporting character on the animated series The Boondocks from Season 1 to Season 3. Soleil's other television appearances include the recurring role of Young Dee Dee on the UPN sitcom Half & Half and a spot on the 35th NAACP Image Awards in 2004. She was born in Viejo,California.
Ad blocker interference detected!
Wikia is a free-to-use site that makes money from advertising. We have a modified experience for viewers using ad blockers

Wikia is not accessible if you've made further modifications. Remove the custom ad blocker rule(s) and the page will load as expected.