Dennis Coles, aka Ghostface Killah, is an African-American rapper and member of the Wu-Tang Clan. He appeared in "Stinkmeaner Strikes Back" (guest starring as himself), helping the Freemans to exorcise the spirit of Colonel H. Stinkmeaner out of Tom Dubois' body, basically by telling them that the only way to do so is by ending the Nigga Moment that Tom got involved in earlier. He is shown as an actual ghost for some odd reason, despite the fact that he is still alive (both in the show and in real life.)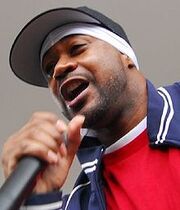 Ad blocker interference detected!
Wikia is a free-to-use site that makes money from advertising. We have a modified experience for viewers using ad blockers

Wikia is not accessible if you've made further modifications. Remove the custom ad blocker rule(s) and the page will load as expected.