"Invasion of the Katrinians" is the ninth episode of the second season of Adult Swim's The Boondocks Tv Series and the twenty-fourth episode overall. It originally aired on December 10, 2007.
Watch this episode: [1]
Episode
Granddad's cousin Jericho and his family take up residence in the Freeman home after being displaced by Hurricane Katrina.
While professing their gratitude, Jericho and his family quickly begin taking advantage of the Freemans' hospitality, running up bills, devouring all of the food in the house, and destroying the family's belongings. When Robert asks them to get jobs, Jericho and his family refuse and tell Robert that white society is now responsible for them. Jericho tells Robert that he will be receiving a check from the Federal Emergency Management Agency (FEMA), and that when he does, he will give him some of that money as a reimbursement. Robert and Jericho step outside.
Uncle Ruckus
then says that Jericho and every other Katrina refugee are lazy. Jericho then attacks Uncle Ruckus.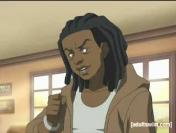 Time drags on and Jericho and his family cause the living conditions in the Freeman home to become abysmal. Angry at having been taken advantage of, Robert stops paying the utility bills to drive Jericho and his family out. The plan backfires, however, as neighbors begin giving handouts to Jericho and Granddad is attacked by the local media.
Eventually, Huey makes an impassioned speech to Jericho and his family, telling them that waiting for other people to help them is what got them into the mess they're in; instead, Huey says, Jericho and his family should go back to New Orleans and help their fellow citizens repair the city. Jericho quickly agrees—neglecting to tell anyone that he has just received a check for $200,000 from FEMA. Jericho instructs his family to pack up so they can go home; they soon depart, with a grinning Jericho promising Granddad to pay for all of the damage he and his family caused, "as soon as my check arrives". At the very end, Uncle Ruckus rants about how "the white man brought the Gulf of Mexico" and "I'm gonna buy a dog, and I'm gonna name it Levee, and I'm gonna kick it whenever it rains."