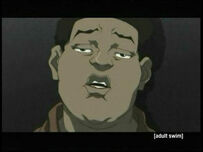 Lamilton Taeshawn is a juvenile delinquent, who appears in Smokin With Cigarettes. Though he is more malicious than others. He says that he enjoys doing bad and unhealthy things. He abuses his grandmother and other people. He does not care for anyone not even his self. The creation of Lamilton was inspired by the famous car thief, Latarian Milton.
Ad blocker interference detected!
Wikia is a free-to-use site that makes money from advertising. We have a modified experience for viewers using ad blockers

Wikia is not accessible if you've made further modifications. Remove the custom ad blocker rule(s) and the page will load as expected.