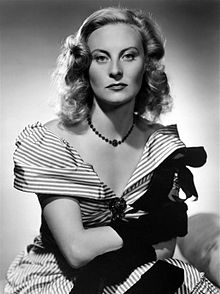 Michèle Morgan, born 29 February 1920) is a French film actress, who was a leading lady for three decades.Morgan was born Simone Renée Roussel in Neuilly-sur-Seine, Hauts-de-Seine, a western suburb of Paris. She left home at the age of 15 for Paris determined to become an actress. She took acting lessons from René Simon while serving as an extra in several films to pay for her drama classes. Her beauty was noticed by director Marc Allégret who offered her a major role in the film Gribouille in 1937, opposite Raimu. Then came the film Le Quai des brumes by Marcel Carné in 1938, opposite the great French actor Jean Gabin, and Remorques in 1941. These two films established her as one of the leading actress of the time in french cinema. Upon the invasion of France in 1940 by the Germans, Morgan left for the United States and Hollywood where she was contracted to RKO Pictures. Her career there proved rather disappointing, apart from Joan of Paris opposite Paul Henreid in 1942, Higher and Higher opposite Frank Sinatra in 1943. She was tested and strongly considered for the female lead in Casablanca but RKO would not release her for the amount of money that Warner Bros. offered. Morgan did work for Warners in Passage to Marseille opposite Humphrey Bogart in 1944. Nothing major came her way.
The Boondocks (TV series)
Rosa Parks / Shaquoya Peterson (2 episodes)
Riley Wuz Here (2006) … Shaquoya Peterson (voice)
Return of the King (2006) … Rosa Parks (voice)
Ad blocker interference detected!
Wikia is a free-to-use site that makes money from advertising. We have a modified experience for viewers using ad blockers

Wikia is not accessible if you've made further modifications. Remove the custom ad blocker rule(s) and the page will load as expected.