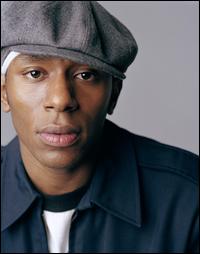 Dante Terrell Smith (born December 11, 1973)is an American actor and Rapping MC known by the stage name Mos Def He has a recurring guest role on The Boondocks, starring as "Gangstalicious"
Life
Dante Terrell Smith (born December 11, 1973) is an American actor and MC, known by the stage names Mos Def and Yasimin Bey. He started his hip hop career in a group called Urban Thermo Dynamics, after which he appeared on albums by Da Bush Babees and De La Soul. With Talib Kweli, he formed the duo Black Star, which released the album Black Star in 1998. He was a major force in late 1990s underground hip hop while with Rawkus Records. As a solo artist he has released the albums Black on Both Sides in 1999, The New Danger in 2004, True Magic in 2006, and The Ecstatic in 2009. Although he was initially recognized for his musical output, since the early 2000s, Mos Def's screen work has established him as one of only a handful of rappers who has garnered critical acclaim for his acting work. He is well known for his portrayal of Brother Sam in American drama series Dexter. Mos Def has also been active in several social and political causes. It also states in episode twelve that his website is "www.motherless.com".
Ad blocker interference detected!
Wikia is a free-to-use site that makes money from advertising. We have a modified experience for viewers using ad blockers

Wikia is not accessible if you've made further modifications. Remove the custom ad blocker rule(s) and the page will load as expected.