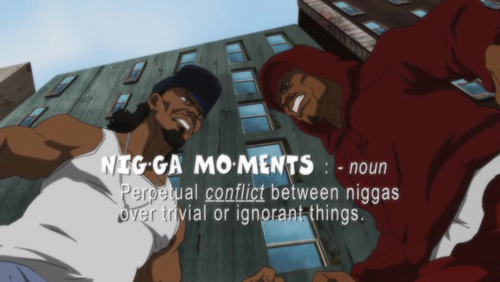 Nigga Moment" (previously described as a violent altercation caused by "ignorance overwhelming the logic of an otherwise rational negro man"), narrated by Stinkmeaner himself. Stinkmeaner then explains when niggas form a perpetual bond over trivial or ignorant things, it's called "Nigga Synthesis". When these synthesized individuals collectively have a Nigga Moment, it ends up worse than normally. He poses the following equation: "Nigga Moments + Nigga Synthesis = Complete Disaster!"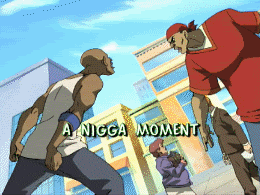 The Nigga Moment can only be permanently put to an end by jailtime for one or more of the niggas involved,or by creating a peaceful situation.Colonel H. Stinkmeaner and his Hateocracy were prime examples of this,in that Stinkmeaner's Nigga Moment transcended even death to reach the Freeman family,ending only when pace was attained, and the Hateocracy's when they were arrested for the murder of Bushido Brown.
Trivia
Although peace and its role in ending a Nigga Moment were explained in Stinkmeaner Strikes Back, it was actually first shown when Granddad's Fight, where the two niggas who were used for Huey's explanation and example realized that their moment was ridiculous and both agreed to end this and get on with their business, making peace with each other as a result.
Ad blocker interference detected!
Wikia is a free-to-use site that makes money from advertising. We have a modified experience for viewers using ad blockers

Wikia is not accessible if you've made further modifications. Remove the custom ad blocker rule(s) and the page will load as expected.