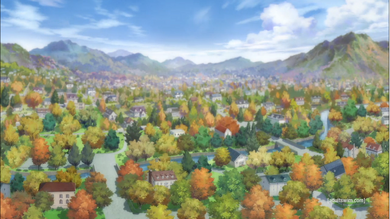 Woodcrest is the mainly white upper middle class suburb where the Freemans now live, it is presumed to be near Baltimore, Maryland. Throughout the course of the animated series, it appears to be set during autumn, given the constant golden reddish color of it's trees. Woodrest by name sake is possibly based on Woodlawn, Maryland, a real life suburb of Baltimore.
Woodcrest was supposedly founded by Ed Wuncler's (the old one's) grandfather. And Woodcrest is unnoficially run by The Wunclers, since they quite literally own everything in the town (including the bank that owns the mortgages on everyone's house, and the "McWuncler" fast food chain). Both Ed Wuncler senior, and the third are free to commit any crimes that they want in Woodcrest since they own the police force. Ed senior prefers white collar crime, while his grandson prefers a more "classic" type of crime.
Woodcest Elementary School
J. Edgar Hoover Elementary School is an Elementary school in Woodcrest. The most noticable feature at Woodcrest Elementary is the surprisingly large number of racially insensitive, ignorant, white teachers.